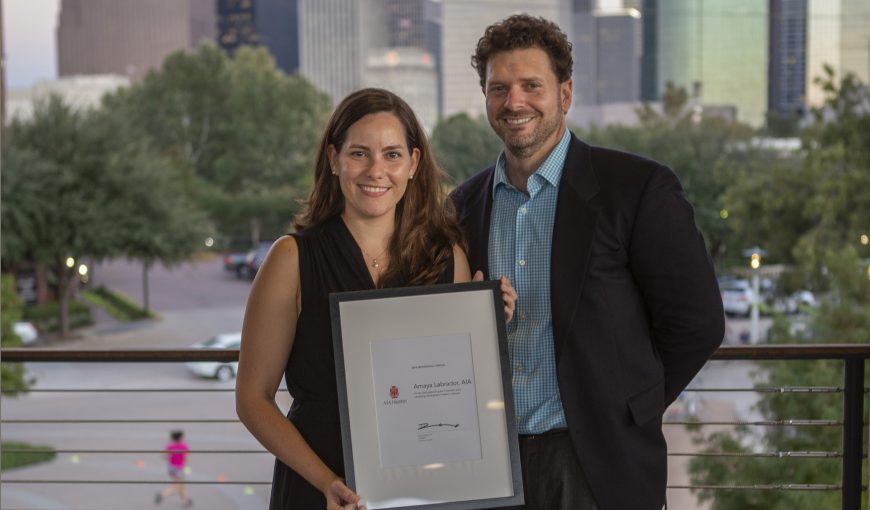 Amaya C. Labrador, AIA, EDAC, joins AIA Houston Board of Directors
Amaya C. Labrador, AIA, EDAC, was voted in as a Director for the AIA Houston Board of Directors at the recent 2018 Annual Meeting and Affiliate Appreciation Party. Amaya also received a Presidential Citation during the event for helping to establish the Christopher Kelley Leadership Development Program (CKLDP) in Houston.
"I am excited to join the Board of Directors for AIA Houston and eager to continue to serve the profession and the community, in particular with the rebuilding of the Architecture Center Houston,"  she said.
The meeting, held on the Wortham Insurance Terrace located above the Cistern on Sabine Street, also served as a vehicle to distribute the following honors:
Educator of the Year – Dean Patricia Oliver, FAIA
Civic Vision Award – Anton Sinkewich, East Downtown Management Dist.
Citation of Honor for Levy Park – Upper Kirby Redevelopment Auth.
Craftsman Award – TXRX Labs
Charles Browne, AIA, Founding Principal and Shareholder of Browne McGregor was also on hand at the event. "As a past President and Treasurer of the Houston AIA, I couldn't be prouder of everything Amaya has accomplished with the AIA and I know she will be a strong asset to the organization", he stated.
To learn more about the CKLDP in Houston, click here. To contribute to the Rebuild Architecture Center Houston capital campaign, click here.