For Browne McGregor Architects the Woodforest Professional Plaza project began in May 2019 with a referral and an impromptu breakfast meeting the next day with CMK Properties developer, John Hopfensperger.  Now less than two years later the first phase of the project is complete and the lead tenant, Sterling Ridge Orthopaedics and Sports Medicine is open for business.
The project is at the heart of the Woodforest master planned community on the northern edge of Houston's rapidly expanding metropolitan area.  The initial challenge for the design team was to master plan the 7.8-acre site for three phases of development totaling over 100,000 square feet of medical and professional office space.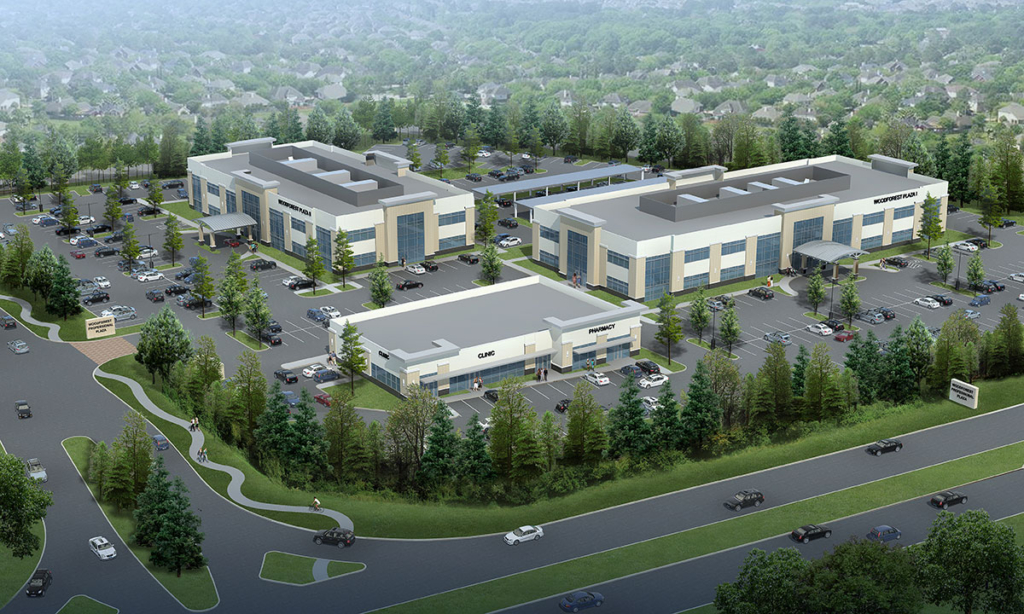 I still remember our first meetings and concept discussions for this project.  I couldn't be more pleased with the finished product.  I look forward to doing many more projects together in the future. – John Hopfensperger
---
Woodforest Professional Plaza 1 (WPP1) at 750 Fish Creek Thoroughfare in Montgomery, TX, contains a total of 50,500 square feet on two levels with surface parking for 260 cars. Unusual for the Houston area, the site's topography required retaining walls to create accessible parking lots in front of and behind the building.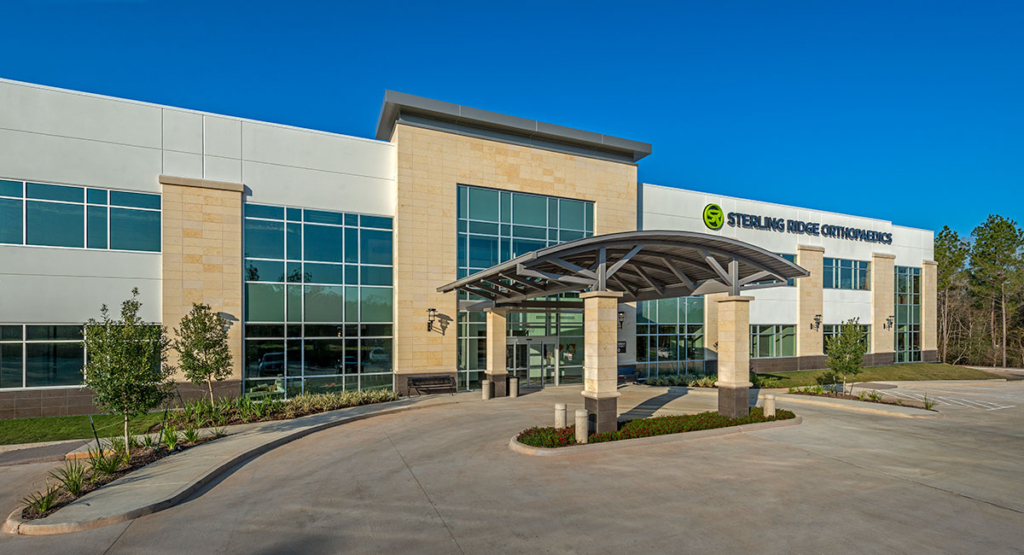 Patients and visitors enter the building under a covered drop off into a two-story lobby with a colorful artwork display.  The front-to-back lobby connects to a canopied entrance on the rear of the building with access to staff parking including a section of covered, reserved spaces for physicians.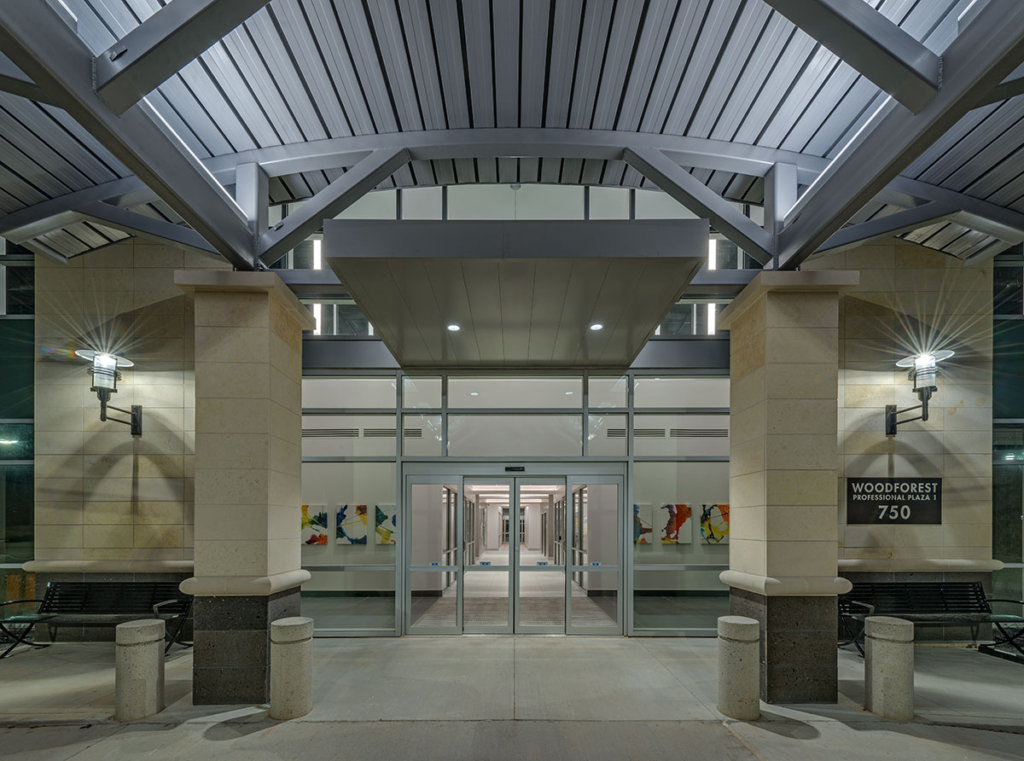 The building structure consists of two-story, concrete, tilt-wall panels with an interior steel frame. The lower portions of the tilt-wall panels are clad with a limestone veneer and the upper portions are finished with a textured, elastomeric coating.  The second floor is supported by a composite, steel frame structure which provides the rigid floor system required for medical tenant occupancies.
Sterling Ridge Orthopaedics and Sports Medicine (SROSM) opened its doors to patients and staff this February.  SROSM's tenant improvements, also designed by Browne McGregor Architects, total approximately 12,000 square feet and include clinic, physical therapy, hydrotherapy, and administrative functions.  A portion of the floor slab in the original building was omitted to facilitate the subsequent construction of SROSM's 16 by 32-foot hydrotherapy pool.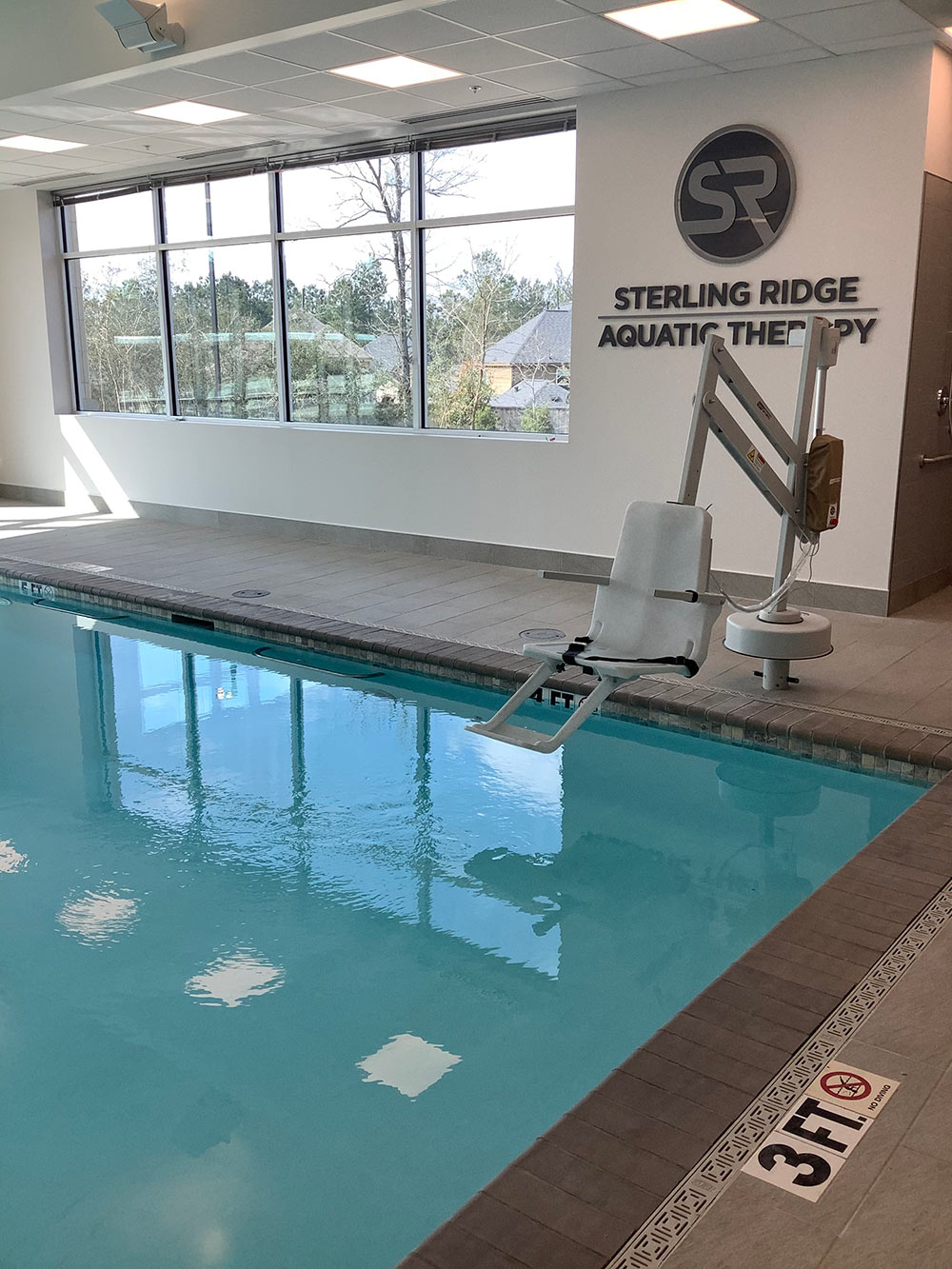 Two other ground floor tenants, Alliance Imaging and Spine & Pain Management, are also opening this February, and plans are in the formative stage for an ambulatory surgery center occupying a significant portion of the second floor.
Lisa Hughes and Pamela Sprouse with the J Beard Real Estate Company report that the building is leasing up in line with the developer's proforma demonstrating the need for high quality medical services in a first-class development serving the Woodforest Community and surrounding areas.